At least, in my life. But I think we're all better now. My jeep, after spending ALL day in the shop on Friday was "fixed" until Sunday when I had to have her towed into the shop again. So, some more $ (cha ching cha ching) later, she's all "fixed" now. I HOPE. I don't want to deal with being stranded right now, and I refuse to take on a car payment right now!
Me, I was blessed with the stomach flu-thankfully just the nausea/achiness part of it. Yesterday I was OUT all day, and today I'm mostly better with the exception of the stomach issues. Still working through that, but the aches and pains are gone, thank goodness.
Sorry I wasn't able to update before now-I just didn't ever find time! For what was a fairly unplanned weekend, it became busy with the jeep on Friday, breakfast with a great friend, running errands and celebrating a 30th birthday with a friend, and then Sunday, more errands, and jeep issues again.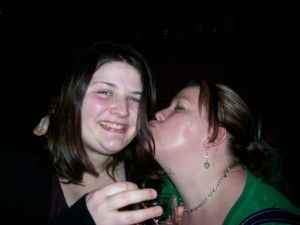 Ashley M & I at Annie Bailey's having fun-SMOOCHIE SMOOCHIE, haha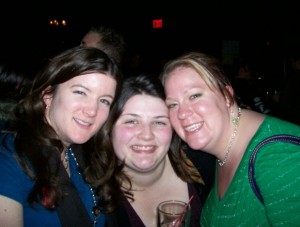 Janay K, Ashley M & I-celebrating Janay's big 3-0!! HAPPY BIRTHDAY!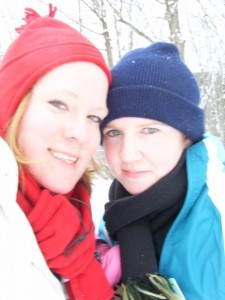 My favorite pic of Kristen & I on our ski trip-couldn't find this picture earlier
___
Today is 13 weeks. Next week, at 14 weeks, I will be celebrating what would have been our 2nd anniversary..hmmm. LOTS of reflection. After much thought, I decided I'm going out to CELEBRATE with my closest friends. I don't want it to be too big, but just the people I'm closest to, we'll go out to dinner and celebrate in a way that Kevin and I would have. It's certainly intimidating to celebrate a momentous occasion without the other half that MAKES it so momentous. But I refuse to make that day about mourning, about loss. It was such a happy day, such an accomplishment for us. Not just to find our soulmates, but the completion of our immigration and long distance relationship struggles. Such a relief, such a time. I never want to make that day a sad day. I want to forever cherish the moment I said "I do", for better or worse, in sickness and in health.
Today is beautiful-I LOVE SNOW. I really do. I've been secretly PRAYING and wishing for a blizzard, lol. Don't hate me please. I love the beauty of it, and the fact that I have 4wd makes it much more tolerable for me. Although, I'm sure I won't be saying this when we finally get an apartment in the city and I have to shovel out my space every time it snows, lol. I better watch what I pray for.
As for apartment hunting, *sigh*. Not the best luck. In the past 24 hours though, 3 BEAUTIFUL looking apartments, for reasonable pricing, came available listing on craigslist. I am seeing the one thursday morning and it's out near centerville. It's slighty higher in price, but they allow cats, and it's a good location. Off street parking. The other two are both in the city-one in the far west end on Orange, and recently renovated, with basement storage. The other is on the east end of the city, 2nd floor, just renovated, and cheaper…so we'll see. I'm still waiting to hear back from both the city landlords. The w. orange street one is most appealing, as it's 1st floor, recently renovated and storage space, but I don't know if they allow a cat….pray that one of these 3 will work out, as we're needing to find something soon.
Tonight is the last of my group grief therapy, unless they cancel it if it starts snowing again. I hope not, as I want to exchange some information with another family I've really connected with while there. I have enjoyed this group meeting for the most part, but I also have found it stirs up lots of emotions and sadness. If I have a day like I did last wednesday again, I don't think I'm going to do anymore therapy. I can't handle the SUPER depression, if that's what it's going to stir up, ya know? Today I'm doing well…just still wrapping my head around him being…GONE. I know he is, but sometimes my brain just can't process that information. It's very clouded, but that's ok. It's normal, it's allowed.
I am pleased to announce that I am 95% certain I will be starting the 2nd job! I will be doing clerical work for a local architect, and I think it will work out nicely. They're very nice people and flexible, which is great. If it works out, I should start there tuesday mornings!
I am going to meet with my advisor at harrisburg area community college on Monday night. After lots of thought, as much as nuclear med. appeals to me, I do much better in social situations, and things dealing with the more literary/pr/customer service end of things. Pushing buttons and complex scientific stuff is NOT how my brain works, and never will be. I'm coming to accept that my writing, my open communication is just as healing and informative to people as getting those tests are to others. I still don't quite know where I'm headed, but that's ok. I don't need to decide today, tomorrow, or even in a year. That's the beauty of college-it's there for any age. I'm not even 25 yet, so no need to freak out, lol.
I need to start writing the novel again. I need to bring those beautiful memories back into focus. I need to re-iterate to my brain the AMAZING, fabulous life I had with Kevin, not the horrifying, devastating death. Writing the blog has come so much easier to me, then writing stories. I'm better with on the fly type things…I guess you could call me a good BS'er, haha. I just find that my brain flows to my fingers so much easier in the present, than it does going back to the past to relive moments. But, what I need to do, is re-create those memories, those feelings, that love, into my fingers and put it down into text. I need to write this. Not only for myself, but because Kevin specifically asked me to write the story of us. It's the least I can do to keep his memory alive for not only me, but for all of you. For all those to come who need to be touched, who need to understand, and who need to let go and live. Sarcoma may have took Kevin, but it never took his spirit, nor will it mine.