*Deep Sigh*
Today I am titling, Hockey Day. After picking up Kevin's hockey equipment yesterday, I decided to just get it done and over with. I opened up the bag, and thankfully, the stench was enough for me to not cry, haha. It was more like…dang, sweaty hockey equipment REEKS. I love my late husband dearly, but his hockey stuff stinks!
Out came febreeze (one of my favorite things), and I went spraying away as I pulled out piece after piece of equipment. I'm donating it to a family who has all of their boys involved in hockey. As those of you hockey players know, it gets EXPENSIVE, so I know they'll put his equipment to great use. I kept all the jerseys I found in the bag, as well as the upper body gear, because that fits me, and I think I may start training to join a women's hockey league this fall. Just dream of mine….in good news, I found my hockey skates! It was hard, but it feels good to pass the gear along to somewhere, where it will get some use.
I also picked up Kevin's tools, and that was also so difficult. His tool bag even still had a 1/2 gallon of his favorite, Turkey Hill Green Tea, in it. It's tough. I just think….that was one of the last things he drank before he started getting that horrible sore throat. Before it all went downhill.
Each and every day I am finding it's all these little memories that are the toughest. Pieces of him that just pull and tug at my heart make this journey so much more difficult.
But, it's a great sports weekend to look forward to. My friend Kris and I are going to the Bears vs. Phantoms game tonight, and it should be FUN FUN FUN. They're still #1, so GO BEARS. Then, tomorrow, my Steelers are going to be playing for the Super Bowl. Cameron at the gym pointed out that it's all bird games tomorrow, and that gave me a good laugh.
GOOOOOO STEELERSSSSSSSSSSSSSSSSSS!!!!!!!
Last night out with the girs was a lot of fun, so I'm glad I went out. Good times.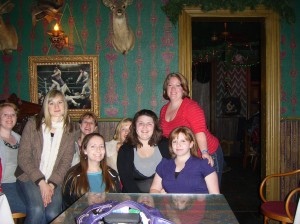 Here's the group of us girls at Alois at Bube's Brewery. Lots of fun!
—
In a quick update about my housing situation, I am actively looking for a 2 br apartment somewhere downtown. My great friend Kristi will be moving in with me, until she moves up to Canada in the next 3-6 months. With her situation, it stinks she has to move out, but it works out well for me to adjust to living on my own again, and by the time she moves up to Canada, I should be on my feet enough to handle all the expenses. It's exciting, I just hope we can find someting affordable and 1st level, that can take cats. Pray for us..Thanks!