My late grandmother was SPUNKY. In fact, so spunky, that when I asked my cousins to contribute a few words about her so that I could write a poem to read at her funeral, that word came up again and again. Spunky. The woman had her ways, her mindset, and she stuck to them tooth and nail. Yes, I'm filled with all sorts of cliches today.
I think back to Kev and the spunk he had. As I had my working writing afternoon yesterday, I was reflecting back on the original blog to write an upcoming guest blog for a famous hospital. It brought back many memories, but thankfully, a lot of good ones too. This was Kev: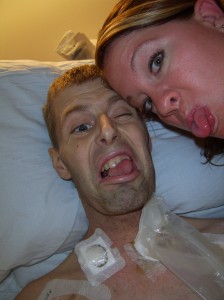 Kev, who despite, the tubes and bandages, and chemo, and pain meds, could make a goofy face with me, could still laugh with me, and still loved me enough to keep living. If it wasn't for the combination of his spunk, and the fabulous care at Hopkins, no doubt he wouldn't have made it past the first month of the disease, let alone 3 more horrific months with it.
Spunk is what has carried me through widowhood, inherited by my late, spunky, grandmother, also a widow. That beautiful combination of stubborn spirit, relentless dreams, selfish wishes, weeping soul…it just combines to this molten lava of drive that isn't like anything else I have experienced before. What else would bring me through this?
What brought you through your grief, your tough time? Do you think it's all spirit, God, or something else?