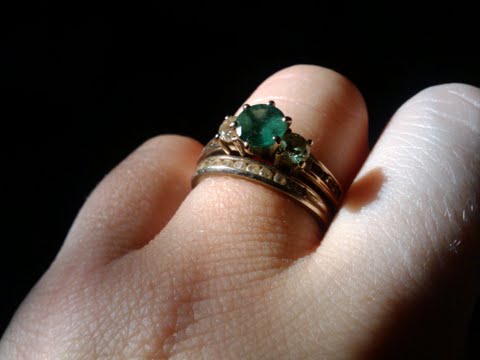 I put on my rings this morning. I was getting ready, wearing green, so naturally I selected a pair of jade green earings that my mother in law had sent to me from Canada. I thought of the other green jewelry I had in the brocade box sitting on my plastic dresser drawers, and in that box sat my emerald engagement ring. I picked up and put it on, just to see if it still fit. It did. Then I looked to see if I could find my wedding ring. I slipped my engagement ring off, and slipped my wedding ring on my left ring finger, and that sat the engagement ring on top of it. Perfect fit, still.
I wept. I looked down at the perfect fit of my rings and realized how much I missed the light weight of the things, and running my thumb over the back of them absentmindedly throughout the day. My thumb still stretches to that left ring finger to feel the white gold of the rings, but they are absent.
The comforts of marriage are gone. The excitement of dating has returned. The foreignness of singledom. The miss of close connections with family all over the country. The familiarity of marriage is gone. I have not heard from my in laws in the nearly two months since I visited. I have not felt the weight of my rings in a year and a half, when I removed them and began wearing a black and silver widows ring just months after losing Kevin.
At a friend's going away party this weekend, as he prepares to leave his family for 6 months in Qatar, two things were said to me regarding widowhood: The first was a question, wondering if there was good in the plans that we did not expect to be plans. I admitted that it was a new, different good. The second was a statement as I looked up to a friend's father, who stood over a foot taller than I as he had his arm around me. I joked about being the shortest in the circle and he said "Brenda, I look up to you". This coming from a man who was my own father's age.
I have absense of rings, the securities that come with marriage, the new relationships and family from in law. I have so much more since that time in my life. I have faith. I have knowledge and wisdom. I have appreciation. I even have some new love. I have me, in a new, different way.