My brain won't shut off, as you can imagine. I have been surrounded by my amazing family, and by all of you all day. Thank you for that. I find I can't sleep, and am praying for a safe journey as Linda and Ken arrive in the next 4 hours to my parents' home.
I'd like to share with you the last picture I took of Kev, just last evening. I got a smile from him which was glorious for me. It's hard to see, with all the wires and things, but know he is content and we were just enjoying each other's company during this photo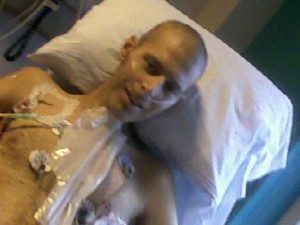 We were so blessed to have each other. I was discussing with the chaplain at the hospital today how we both just felt so lucky to have each other. We both felt like we won the jackpot when we met. We had such a high respect for one another, and we tried never to take advantage of that. We hardly fought, and through all we had been through just in our relationship with the distance and immigration, we felt everday was truly a blessing to have each other. We unfortunately were granted such a short time together, but in that short time, we had such a passionate marriage. I do not regret a thing when it comes to Kevin and I, and although my loss is beyond imaginable right now, I still feel so blessed to have had the opportunity to love him and to be loved by him.
He is my other half, my soul mate, my ayn true love. Without him, I am not. But I will always carry him deeply with me. He showed me love in ways I never could have comprehended before I met him. You never would have thought tough guy, ice hockey player, car lovin', workoutaholic Kevin could have such a deep deep love and charmisma. But that he had, and so much more.
In our service planning ahead, I want you all to know that tears are expected and welcomed, but celebrating and remembering, and embracing is of the upmost importance to us. Kevin loved a good party, and we hope to just rejoice in his going to Heaven where he is healed. We want to rejoice in our mourning, knowing that he is pain free, and just…free.
Some verses that help us get through, and have in the past through this journey…
In this you greatly rejoice, though now for a little while, if need be, you have been grieved by various trials, that the genuineness of your faith, being much more precious than gold that perishes, though it is tested by fire, may be found to praise, honor, and glory at the revelation of Jesus Christ, whom having not seen you love. Though now you do not see Him, yet believing, you rejoice with joy inexpressible and full of glory, receiving the end of your faith—the salvation of your souls."
1 Peter 6-10
My brothers and sisters, whenever you face trials of any kind, consider it nothing but joy, because you know that the testing of your faith produces endurance.
-James 1:23 (NRSV)
By the power at work within us [God] is able to accomplish abundantly far more than all we can ask or imagine.
– Ephesians 3:20 (NRSV)
Thank you again for all your support and love. Keep the comments flowing as they are so uplifting to us. Having you is certainly helping me today. Thank you and God Bless.